By

lisafen
Posted in App Promotion
On October 13, 2021
Comments Off

on Top 10 Most Downloaded Games in August 2021
How about the mobile game market in 2021?
During the 2020 epidemic, the mobile game market continued to expand. In a period when people can only work at home and rest, mobile games have become the best choice for people's entertainment.
According to the global market report for the first half of 2021 released by Sensor Tower, the scale of global mobile application revenue (including games) hit a new high, which is expected to reach 64.9 billion U.S. dollars, an increase of 24.8% from the 52 billion U.S. dollars in the same period in 2020. Among them, App Store is expected to hit 41.5 billion U.S. dollars, which is about 1.8 times that of Google Play (23.4 billion U.S. dollars). Although the latter's revenue scale is not as good as the former, it has increased by 30%, which is higher than the former's 22.1%.
In the first half of this year, the revenue of the mobile game market is expected to reach 44.7 billion U.S. dollars, a year-on-year increase of 17.9%. Among them, App Store contributed US$26 billion, a year-on-year increase of 13.5%, and Google Play contributed US$18.7 billion, a year-on-year increase of 24.7%.
To view more detailed tips about Spotify Ads
Top 10 Most Downloaded Games in 2021
Top Action Games
Action Game is a game type that uses "action" as the main form of the game in a broad sense and can be counted as an action game. It emphasizes the player's ability to react and the coordination of hands and eyes. The plot of an action game is generally relatively simple, and the game can be played mainly by familiarizing with the operating skills. This type of game is generally more exciting, the plot is tight, the sound and light effects are rich, and the operation is simple. Action games also include "shooting games" and "fighting games". After 2005, pure action games have become relatively rare, because "actions" are expressed in various forms.
According to data from ASOTools, the most downloaded action game in August was Roblox.
Roblox is a game compatible with virtual worlds, casual games and self-built content. Most of the works in the game are created by users. From FPS and RPG to racing and solving puzzles, players control these small people composed of cylindrical and square shapes to participate and complete. In the game, players can also develop various types of games.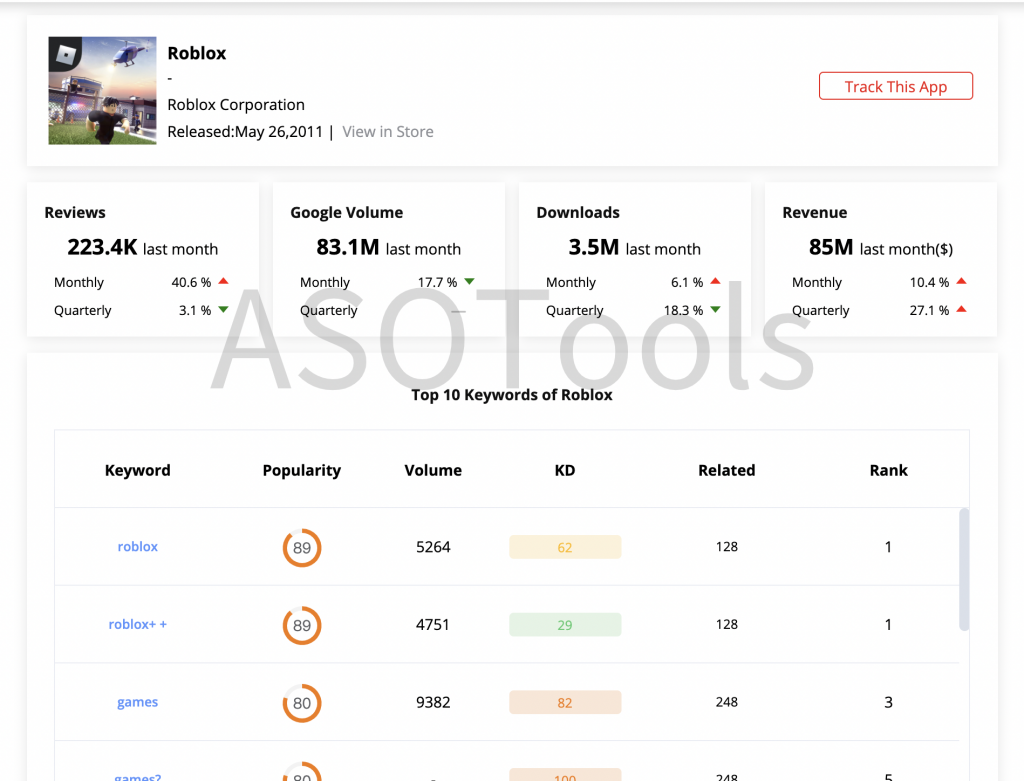 According to ASOTools data, Roblox had 223.4K views last month, an increase of 40.6%; Google traffic reached 83.1M, an increase of 17.7%; downloads reached 3.5M, an average monthly increase of 6.1%; revenue reached 85M, an average Increased by 10.4% every month.
Top Adventure Games
Adventure game is a kind of video game. Adventure games focus on plotting and exploratory interactions such as exploring the unknown and solving puzzles, emphasizing the discovery of story clues, and mainly testing the player's observation and analysis capabilities. Adventure games are sometimes very similar to 2Role-Playing Game.
According to data from ASOTools, the most downloaded adventure game in August was Body Run 3D.
Body Run 3D is an iPhone and Android game application, made by Voodoo. Today, it has experienced multiple interactions with developers-Voodoo, and the latest version is 2.0.1 officially released on July 28, 2021. As proof of the app's popularity or unpopularity, it has collected 34,097 reviews on the Apple App Store alone, with an average user rating of 4.5 out of 5 stars.
According to ASOTools, Body Run 3D has just been launched in May, and has received 2M downloads in August. This shows that small entertainment games are a popular trend, and more and more users are no longer pursuing large-scale games with complex plots and intense graphics. The game gradually began to move towards a relaxed and fast-paced mini game.
Top Role Playing Games
Role-playing game, referred to as RPG for short. In the game, the player is responsible for playing this role in a realistic or fictional world. The player is responsible for playing one or more roles, and through some actions under a structured rule, the role played is developed.
According to data from ASOTools, the most downloaded role-playing game in August was Genshin Impact.
Genshin Impact is a fantasy-themed open-world action role-playing game developed by Mihayou in China. It adopts a card-based basic free and item fee system. The game has been released on Microsoft Windows, Android, iOS, PlayStation 4 and PlayStation 5 platforms, and is planned to be released on Nintendo Switch.
Genshin Impact was generally praised by the relevant media, commenting and praising the game's combat mechanism and the freedom of the open world, but criticized the later game content and profitability methods. The game has achieved commercial success, with a total revenue of more than $1 billion within six months of its release. The products will be included in the "2021-2022 National Cultural Export Key Enterprises and Key Project List" by the Ministry of Commerce of the People's Republic of China in 2021 .
According to ASOTools data, Genshin Impact received 1.5M downloads and 40.1M revenue in August.
Top Card Games
Card games, also known as card games, are a type of tabletop game. There are many theories about the origin of card games. The view that is more generally accepted by scholars at home and abroad is that modern card games originated from a game card called "leaf play" in the Tang Dynasty of China. With the vigorous popularity of mobile devices, the charm of mobile games has gradually begun to emerge. With the advent of card-based mobile games, it quickly occupied the mobile game market with its convenient, fast, easy-to-operate, automatic and efficient features, and its unique style of imitating RPG games was immediately sought after by the majority of players.
According to data from ASOTools, the most downloaded card game in August was UNO.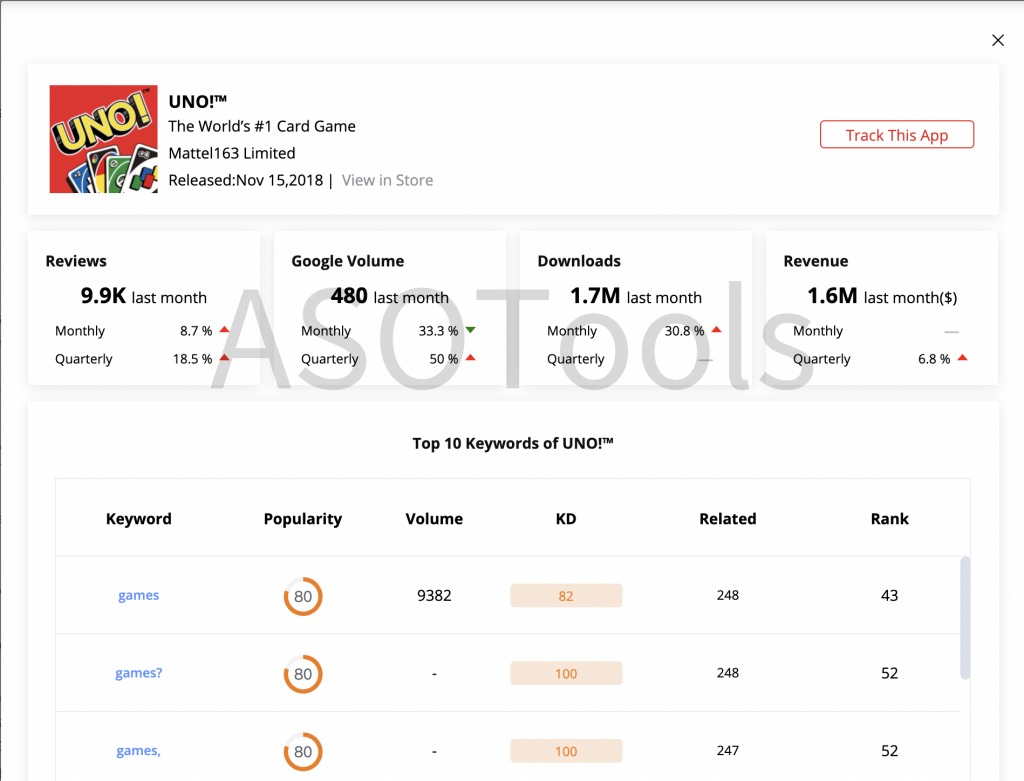 UNO is a board game. Players need to call out "UNO" when the last card is left, hence the name. It means "1" in Spanish/Italian. UNO is popular all over the world. The game is played by assigning 7 cards to each person, and then playing cards one after another in a counterclockwise order, and the person who plays all the cards in his hand first wins.
According to data from ASOTools, UNO had a download volume of up to 1.7M in August.
Top Puzzle Games
Puzzle games are small games that use certain logic or mathematics, physics, chemistry, or even their own principles to complete certain tasks. It is worth mentioning that excellent puzzle games are also very entertaining, both fun and playable.
According to data from ASOTools, the most downloaded puzzle game is Trading Master 3D-Fidget Pop.
According to data from ASOTools,Trading Master 3D-Fidget Pop reached 5M downloads in August. As a game that was only launched in June this year, it has great potential.
Top Sports Games
A sports game is that simulates the practice of sports. Most sports have been recreated with a game, including team sports, track and field, extreme sports, and combat sports. Some games emphasize actually playing the sport, whilst others emphasize strategy and sport management . This genre has been popular throughout the history of video games and is competitive, just like real-world sports. A number of game series feature the names and characteristics of real teams and players, and are updated annually to reflect real-world changes. The sports genre is one of the oldest genres in gaming history.
According to data from ASOTools, the most downloaded sports game is 8 Ball Pool™.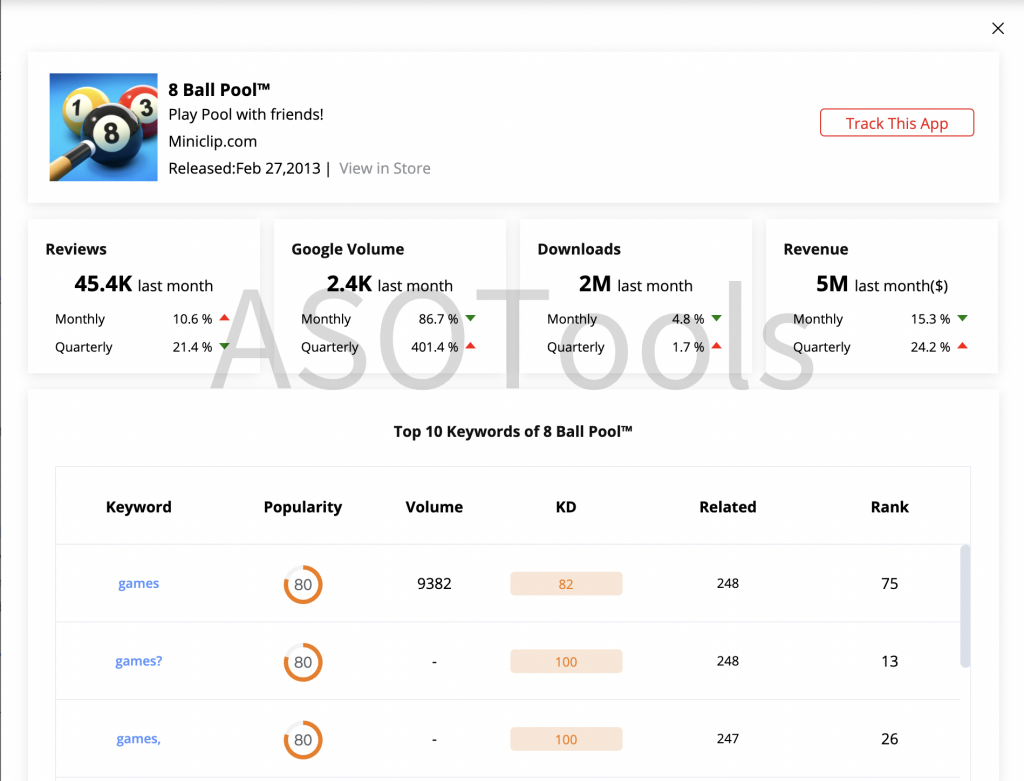 It is a real simulation billiard game, the rules are very common 8-ball game. As long as all the goals are scored, the black 8 is the victory. It is a billiard game that is very suitable for casual play. The game not only supports man-machine battles, but also supports mobile phone interconnection battles, so that you can feel the charm of billiards on your mobile phone.
According to data from ASOTools, 8 Ball Pool™ received 2M downloads in August, as well as 45.4K page views and 5M revenue. This kind of simulated sports series game gives people a sense of real blow and substitution, which is very popular.
Top Strategy Games
A strategy game is a game that mainly relies on strategy. When defining what a strategy is, two factors need to be considered: its complexity and the scale of the action, such as each position in the Total War series. The definition of strategy game in its cultural context should be any game that belongs to the tradition that can be traced back to war games, contains more strategies than ordinary video games, contains certain game rules, and is represented by a specific community. Although war dominates strategy games, this is not the whole story.
According to data from ASOTools, the most downloaded strategy game is PUBG MOBLIE 1.5:IGNITION.
PUBG MOBLIE 1.5:IGNITION is a free mobile battle royale game jointly launched by the Photon Studio Group under Tencent Games and PUBG Studio, a subsidiary of the Kuijiang Group. It is the mobile version of PlayerUnknown's Battlegrounds. The basic gameplay content of this game is the same as the PC version of PlayerUnknown's Battlegrounds, allowing mobile players to experience the classic battle royale game like the PC version.
According to data from ASOTools,PUBG MOBLIE 1.5: IGNITION reached 2M downloads in August, earning 27M of revenue.
Top Racing Games
Racing games are a video game genre in which the player participates in a racing competition. They may be based on anything from real-world racing leagues to fantastical settings. They are distributed along a spectrum between more realistic racing simulations and more fantastical arcade-style racing games. Kart racing games emerged in the 1990s as a popular sub-genre of the latter. Racing games may also fall under the category of sports video games.